Making the miles count at the Simplyhealth Great Birmingham 10k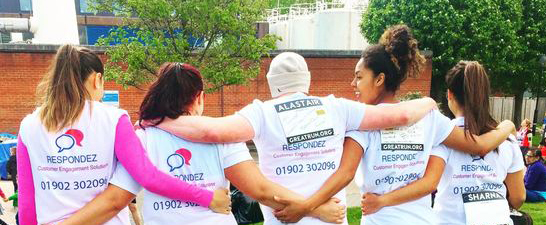 Respondez was delighted to take part in the Simplyhealth Great Birmingham 10k to help raise money for Compton Hospice. After weeks of training Respondez could not be happier about the results – not only did our team complete the 10K run with fantastic times, but we also raised more than double our goal for Compton Hospice.
The Simplyhealth Great Birmingham 10k took place on 30th April 2017, bringing together hundreds of runners from across the West Midlands. The event started on Jennens Road and finished at Birmingham's Millennium Point, and was also broadcast live on Channel 5 on the day.
Team Respondez was represented by Sharna Bishton, Marta Toscano, Alastair Daunter, Charmaigne Bailey, Gemma Tarpey and Phillippa Taylor. Sharna completed the 10K race with an impressive time of 01:02:03, making her Respondez's number one runner.
"We all had a lot of fun on the day and it was a pleasure to support Compton Hospice. We would like to thank everyone who helped us reach and exceed our fundraising goal," commented Marta Toscano.
Compton Hospice is a local charity based in Wolverhampton which has been helping patients with terminal illness for the past 35 years. Respondez would like to strongly thank everyone who took part in the race and our team looks forward to taking part in future Great Run events.